As most people dive fully into summer, here at the Junior Slam Series we are working hard on a number of initiatives to make sure Season 4 is our best season yet, and one of the places we have been making improvements is in the LiveScores system.
Streamlined Appearance
We have spent some time looking at the how the information in LiveScores looks, especially when it appears on smaller screens. There was a small "sneak peak" at what we were thinking with last season's Player Championships, and the new look is making an appearance throughout LiveScores. The data has been packed together a little more tightly to make it more accessible on phones and other small screens.

Also the buttons used to navigate between the various pages of LiveScores data has been replaced by a "tab bar", that tells you 'where you are' and invites you to explore. On very small screens the tabs are hidden and replaced with a pop-up menu containing the same options.
More Stats
A new pages has been added for every event, the "Stats" page. This page shows – at a glance – the key scoreboard stats for every team at an event. See how effective a team is at making the deuce or scoring a big end, how often do they manage to steal? This powerful summary can help coaches prepare their teams for upcoming games by looking at strategies to minimize the oppositions strengths and exploit possible weaknesses.

You can take a sneak peak at this new report by looking up any of our season 3 events and selecting the "Stats" tab.
Integration with the JTRS
LiveScores help the Junior Slam Series keep the JTRS up to date by counting the number of teams at an event and working out what points are available, and then counting the number of round robin wins and the highest finish for each team. Using these built in smarts, the JTRS should be up to date shortly after each event concludes (we are committed to 'within 3 days').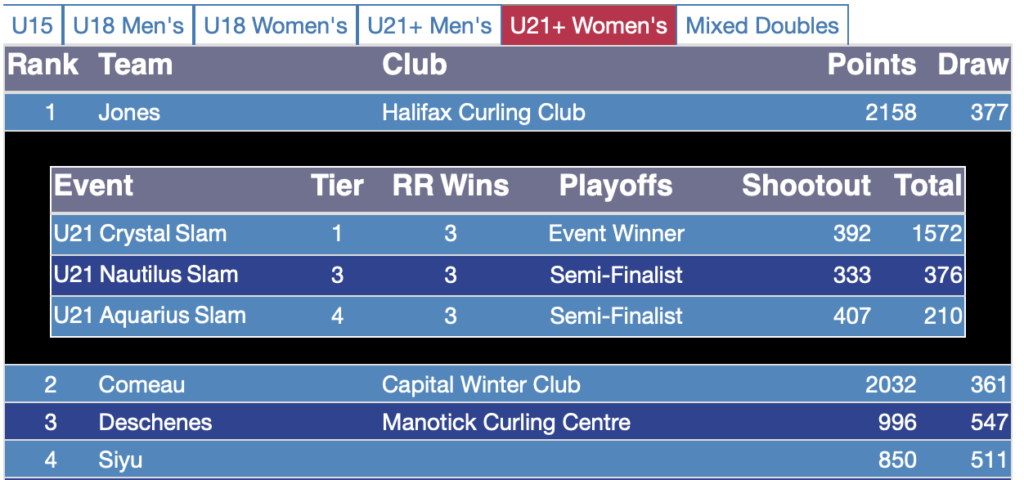 When you are looking at the Leaderboards, click / tap on any team to see the events they earned points at, and how many points they earned. If you want event more details, click / tap on the event name to open the team schedule page for that team and event. Here you can see who the team faced over the weekend, the results of each game and the teams roster and stats for the event,
Nowhere else in Junior Curling can you get this level of inside and real time data. Stay tuned for more updates as we near our first events in September, and in the meantime, enjoy your summer.
– Stephen Orr